Sorry, we're unable to load this blog.

Image by Cool Text: Logo and Button Generator - Create Your Own Logo



"MiscarriageHelp.com is a support site for women and their families who have suffered the pain, loss and grief after miscarriage. I respond personally to each email and post and have been doing so since 2006. It's an outreach to me, as I try to connect and support those who have walked the often lonely road after miscarriage. Why? I don't want anyone to feel as alone as I did some twenty years ago after my own miscarriage." -Love & comfort to you, Ellen, - Ellen M. DuBois
I Never Held You: Miscarriage, Grief, Healing and Recovery (Volume 1)
.
Hello. My name is Ellen DuBois. Welcome to MiscarriageHelp.com. I am deeply sorry for your loss.






Baby Remembrance Bracelets.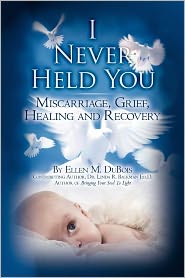 I Never Held You also available at Barnes and Noble.
www.clairechew.com
My Forever Child, Keepsakes & Jewelry for Remembrance, Healing & Hope.