We know how difficult it can be to find a unique sympathy gift for someone who has experienced the loss of a loved one. Words of sympathy do not come easily and comforting sympathy gifts are difficult to find. With this in mind, we have carefully selected or custom designed a meaningful collection of books, sympathy poems and cards, bereavement and condolence gift ideas with the hope of bringing comfort and remembrance to those who are grieving. Visit Sympathy Solutions.
Memorials - Memorial Gifts- Give the gift of Hope and comfort with a hand made Hope Angel Bracelet.


Hope Angel Bracelets are available at HopeAngelBracelets.com on Etsy. Hope angel bracelets are also available in a variety of colors, including Pink and Blue. These bracelets can be worn in honor of your loved one's memory, given as a gift to a friend who needs a lift, to a daughter who just needs to know she's not alone. The one pictured above was made for a woman who sadly lost her twins to miscarriage. There are two baby footprint charms and a teardrop. She wears this to honor both of her babies in Heaven. Please visit Hope Angel Bracelets for more.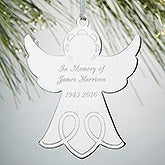 Silver Angel Personalized Memorial Ornament

Our Silver Angel Personalized Memorial Ornament makes a heavenly addition to any family tree! The distinctive ornament allows you to customize the design with up to 3 lines of any personalization, in the stylish script font shown, creating a one-of-a-kind gift for someone special.



Thinking of you sympathy gift
from: Gifting Inc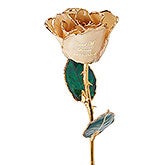 Personalized Preserved Memorial Rose

Remember your lost loved love one with our Loving Sentiments Personalized Rose. Carefully selected, real roses are preserved with a clear lacquer and then trimmed in your choice of 24k gold or silver. Choose the color of your rose from our selection of 5 color options. Personalize your rose with up to 30 characters of text written in a beautiful script, which will be printed on one petal in gold or silver to coordinate with the trim color selected. An everlasting display of their memory.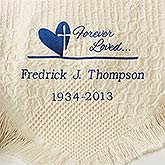 Forever in Our Hearts Personalized Afghan

Let them continue to warm your heart and bring you comfort each and every day with our Forever In Our Hearts Personalized Afghan. Beautifully embroidered with the text Forever Loved. next to a simple heart and cross design, add any name and memorial dates in your choice of 13 thread colors. A wonderful way to bring you warming comfort and while embracing their loving memory.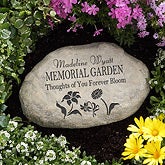 Memorial Garden Personalized Garden Stone

When a loved one passes, create a touching testament of a life well-lived and well-loved, with our Memorial Garden Personalized Garden Stone. We artfully engrave your loved one's full name and 1 line of sentiment to honor them with your loving, personalized touch. Beautiful in a special pathway, garden retreat, or any outdoor space. Crafted of durable resin with the look of real stone (without the weight!). Stone measures approx. 7 1/2"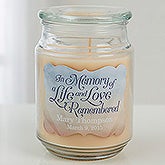 In Memory Personalized Scented Candle Jar

Cherish the memory of their life with our In Memory Personalized Scented Candle Jar. Choose one of 5 scents for your candle. Below the quote; In memory of a life and love remembered, personalize the candle with your loved ones name and an optional date or message.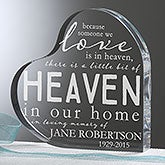 Heaven In Our Home Personalized Memorial Keepsake

Because someone we love is in heaven, there is a little bit of Heaven in our home." Keep their memory alive with our beautiful Heaven In Our Home Personalized Memorial Keepsake. We will skillfully laser engrave any loving memorial sentiment followed by your loved one's name and commemorative years upon our glistening, lucite heart keepsake; creating a truly unique keepsake to treasure always!


Stairway of Tears Personalized Memorial Afghan

Keep the memories alive with our Stairway of Tears Personalized Memorial Afghan. The afghan features the timeless verse, "If tears could build a stairway, and memories a lane, I'd walk right up to heaven and bring you home again." surrounded by flowers and a hummingbird. Personalize with any name and/or date in coordinating green thread below the verse. A truly unique remembrance to be treasured for years to come.


Sympathy Gifts, Memorial Gifts, Miscarriage Sympathy, Healing Jewelry, Miscarriage, Infant Loss, Miscarriage Sympathy Cards, Necklaces, Pregnancy Jewelry Rings, Sympathy, Memorial. Pregnancy Loss Gifts, Healing Gifts
Powered by WebRing.